ONCE UPON A TIME IS GONE

                                                          I am so fed up with using computers!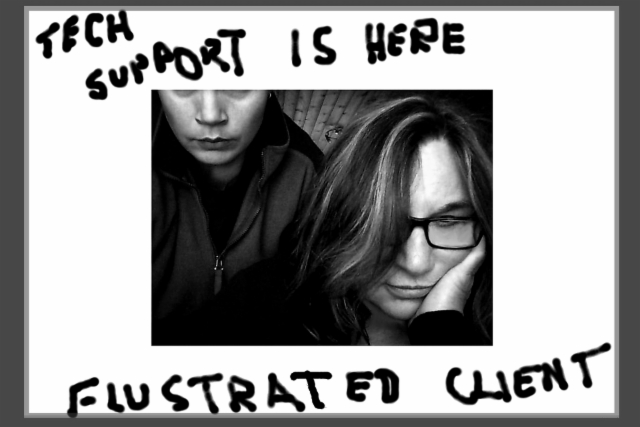 During the late nineties, I was involved with preparing for the transition to the 21st century, when many computer programs, unless fixed or replaced, would have ceased to function because they were incapable of handling four-digit years. The press made a big fuss about this and many doomsayers predicted the end of the world as we know it (TEOTWAWKI) on January 1, 2000. I occasionally wrote on the matter, and we just found these two contributions to discussion forums concerning Y2K.

February 26, 1999
Re: An Informed Public Is a Prepared Public

Most Y2K observers, especially the doom mongers, are outside the corrective work going on.  Those doing the work, on the other hand, are too busy and have their noses too close to the ground to be able to put their perspective into sellable words.  Thus, the outside commentators have been left to define what's happening, and have chosen what's sure to help them sell their wares: the concept that we're all helpless victims of a large machine that's about to break down.

This is the current understanding of the role of society at large and of government in particular: For the People.  Some generations back, in countries so favored, government and public actions were seen differently: By the People.  Following the victory of business over the family and the individual, we now fulfill our ordained roles as specialized consumers with no complementary skills, and must depend on society, and, specifically, on business for every aspect of our survival.  Hence the ease of conjuring up the image of everybody on Earth stuck in a malfunctioning space station, abandoned by the maintenance crew, and headed for disaster.

What remains, however, is the fact that it's still people doing the work and the machines that may break down are their tools.  It isn't just some unknown processes that are at risk, it's places of work.  Billions of people are potentially affected; that means billions of pairs of hands that can do something.  We all deal with emergencies and broken tools all the time; are we likely to stand idly by while our jobs and our livelihoods go down the drain due to some technical problem with our tools?  I dodn't think so.  Common sense is a powerful force, once it kicks in.

All the people who wrench their living directly from the soil and the sea will be affected only indirectly, if at all.  Much of the work at risk can be performed with degraded tools or by alternative means.  Work that can't be done without the tools will be prioritized.

On another note, I believe that, in the developing countries, where there isn't enough time, money, or resources to check and fix everything beforehand, a viable strategy could be to concentrate on securing the power supply and other vital parts of the national and local infrastructure, such as water and sewers, food and fuel supply, payment system, revenue collection, transportation, health and education, entitlements, public servant salaries, defense, and security.  If you then fix only what breaks among other systems, you'll spend just a fraction of the time and money required to check everything in advance and fix all systems that look suspect.  As long as power and basic services work and people don't riot, having some computers and machines down for a while isn't yet a catastrophe, especially in countries where you don't depend on everything working perfectly, anyway.

If this last concept is indeed viable, then the measurements of Y2K preparedness that apply to OECD countries shouldn't be used for the developing world.  Foreign investment shouldn't be encouraged to flee countries just because they're less prepared than, say, the US and Canada, thereby creating self-fulfilling prophesies of doom.  There's enough trouble in the developing world, anyway.

Note: OECD  means Organization for economic co-operation and developement


January 10, 2000
Re: Congratulations!

Y2K was a special challenge, because its worldwide complexity exceeded our human ability accurately to predict its consequences.  However, it was well known in advance, and there was ample time to prepare.  Hence, all went well: no systemic failures occurred.  A lot of money was spent, and, clearly, it was well spent.  It's also clear that unless the effort had been made, there could have been systemic failures, and that would have been bad.

Some isolated Y2K glitches have appeared, as could be expected.  Due to the nature of the systems involved, such problems will keep surfacing for some time to come.  This is normal and can be handled.  IT staff and engineers do this for a living.  If our tools break, we fix them.  What we avoided was an avalanche of problems all at once, which would have exceeded or capability to fix things.

An interesting thought is whether we've learned anything about doom-saying in the process.  Most of the doom-sayers have gone quiet, perhaps preparing for Leap Day or the next New Year's.  Those with a wider reputation to salvage are now doing their explaining thing.  Next time around, I believe we can look out for the following characteristics so as not to lose too much time and effort on dealing with them:

    All the doom-sayers had something to sell, and public apprehension increased their sales.  The goods included the message itself, consulting services, their own writings, emergency supplies, and worthless pieces of land.  It's to be hoped that those who bought will find a way to profit from their investment.
    Doom-saying, by its nature, looks at a trend and extrapolates it linearily until a disaster scenario is found.  In real life, everything goes in cycles.  When a dubious trend has continued long enough, common sense kicks in and resources are applied to correct it.  But meanwhile, somebody gets rich on describing the havoc we were headed for.
    Most of the criticism of the perceived inaction in the non-English-speaking world came from the United States.  There's a correlation between the lack of language skills of English-speakers and their failure to understand the actual effort expended elsewhere.  Further, as even the CIA admitted by way of explaining its own misjudgment, Americans tend to project their own society and infrastructure on everybody else, ignoring the fact that no other country is as dependent on money and technology as the US.
    Some doom-sayers strongly touted the domino theory, multiplying the likelihood for interconnected systems to cause a compounded failure even where risks to individual systems were low.  This theory assumes that the world is run by an incomprehensible, uncontrollable web of robots where any glitch will snowball into a major failure.  Reality is different: most IT systems deliver their results to humans who can see if they are wrong.  People do the work; the systems are their tools, and can be fixed if they break.  Interdependent systems were subjected to intensified integration testing.  Embedded systems were replaced if there was reason to believe that they were doing something date-dependent.


Nevertheless, the doom-sayers did us a great service: we got more money and resources for the work than we'd have got without them.  So congratulations and thanks to them too!